Real Madrid mutter and moan but Levante do the 'dirty' part well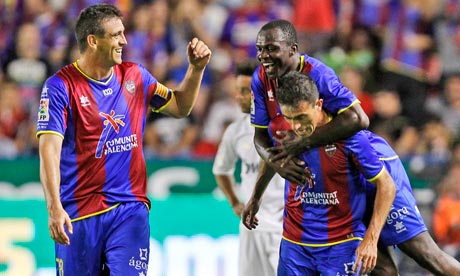 For all the complaints, it was hard to feel sorry for Real Madrid despite a harsh sending off and a penalty the referee did not give
Miss World reapplied her lipstick, puffed out her chest and sashayed elegantly towards him, hips swaying seductively, desire burning in her eyes. With the satisfied smile of someone who knows how this is going to end, the rich, handsome man in the impeccable suit watched her draw near … then watched her step dismissively past him, the sweet whiff of perfume briefly invading his senses, and fling herself into the arms of the ugly bloke behind. Last time it very nearly happened, this time it very really happened: the ugliest, poorest, most talentless team in Spanish football ended up kissing the planet's most beautiful woman and it felt right somehow. The impossible had been perfectly set up.
A year ago almost to the day Levante's coach, Luis García, announced that beating Real Madrid would be "like kissing Miss World". Back then, Levante didn't beat Madrid but the striker Rafa Jordá announced that drawing with them wasn't bad either: "like chewing the face off your girlfriend". This time, Levante did beat them. In September 2010 it finished 0-0; in September 2011 it finished 1-0. In the week that Cristiano Ronaldo said people had it in for him because he is "handsome, rich and good at football", Madrid were defeated by a team that, as the banner at the Ciutat de Valencia stadium put it, are "ugly, poor and bad at football".
Those who remember Levante from last season will recall they are so poor that the coach admitted he could not afford to use the Spanish equivalent of ProZone and that the sporting director admitted to picking off the scraps, missing out on players who would rather play in the Second Division than rough it in the First; that, despite the presence of qualified hairdresser Juanfran, they were ugly, that they had the oldest, most lumbering and unrefined defence around; that they were so talentless that the one experience most shared was relegation. They will recall that the average wage at Levante is less than Ronaldo gets in a week, while their most expensive player cost €300,000 – one 320th what the Portuguese cost Madrid.
And although they'll probably also recall Levante's extraordinary escape from relegation thanks to strength in unity, porno pictures on dressing-room walls and death-defying leaps from great heights, they would still be entitled to assume that Levante were even less likely to beat Madrid this season. Even less likely to survive, too. This summer Levante paid for a player for the first time in four years. But they did so to exercise their option to buy on Felipe Caicedo, the league's most effective striker, and immediately sell him on. With him went a third of the team's goals. His replacement was the on-loan Sevilla striker Aruna Koné. Total number of La Liga goals since arriving in 2007: one.
The manager who led their miraculous escape had departed for Getafe; the defence was a year older – this weekend's back four and goalkeeper had a combined age of 170 – and they could not fail to note the message constantly rammed down everyone's throats: this was José Mourinho's second season at Real Madrid and his sides are always stronger in the second season. Madrid had learnt the lesson from last year too, when the inability to score against Mallorca, Levante, Deportivo and Sporting cost them the title almost as much as the 5-0 against Barcelona. It would not happen again. Madrid had scored 10 in two league games, 31 in their past six.
Besides, this was the week in which the rebellion against the inequalities in La Liga died, clubs all across the country showing a lack of decency, honesty, balls and intelligence at the latest LFP meeting as Madrid and Barcelona cockily asked revolutionary José María Del Nido "you and whose army?" and he replied "me and this army" only to turn round and see that he'd been deserted. The big two would dominate forever more. They would never lose again, and if one of them was going to, it would be Barcelona – the team who were in "crisis" having drawn two in a row. Levante, in short, had no chance.
Only they did. Mourinho responded to Pep Guardiola's claim that Barcelona would not win anything this season – a claim followed by an 8-0 thrashing of Osasuna on Saturday night – by saying Madrid's aim this season was survival. That converted this into a relegation six-pointer, a game Madrid could not afford to lose – and, amazingly, they did.
In the 67th minute, Koné controlled Javi Venta's pull-back and smashed it past Iker Casillas to score his first La Liga goal in four years and give Levante a 1-0 victory. A moment before, Juanlu had wasted a glorious opportunity on the right. Madrid had the vast majority of the ball – 63% in the first half, 66% in the second – but created little. In the second half, Levante had four shots on target; Madrid only one. Even in the first they had not dominated, firing off five shots to Levante's four, and only two on target. A few brief moments in the first 20 minutes apart, Levante succeeded in breaking up the game, slowing it down, killing any flow, their aged defence keeping Madrid at arm's length. In the second half, quite literally – the referee Turienzo Álvarez turning down a strong penalty shout for handball.
You couldn't really say Levante didn't deserve the win; there was no hiding place; and even AS's mad Madridista Tomás Roncero wrote "there are no excuses". None of which stopped anyone: there were plenty queuing up to say Levante didn't deserve it, some even borrowing the line normally used on the other side of the Spanish divide to accuse Levante of playing "anti-football"; Roncero went on to offer up the familiar excuses; and this could not have been better hidden if Jo Moore was behind it.
This was not a good day to bury bad news, it was a great day to bury bad news: Spain's victory at the basketball European Championships dominated the covers and meant that there was no football until page 14 of AS, page 18 of Marca on Monday morning. Even then it was two more pages before the match report, the long-awaited and suspiciously well-timed signing of Neymar announced first. Inevitably, more space was given to Madrid's defeat on the front of the Catalan papers El Mundo Deportivo and Sport than their Madrid counterparts.
Inside there was debate, though. Not least because of the reaction of Mourinho after the match. He claimed that the game had changed with Sami Khedira's red card five minutes before half-time. "I have to congratulate Levante," Mourinho said, part in complaint and part in admiration at tactics with which he is familiar. "I have to congratulate them because they were smart, because they know how to provoke, because they know how to act, because they know how to not give the ball back … and all that is football too. We are not comfortable in that environment and they know that; they know how to create that habit better than anyone in La Liga. They do the 'dirty' part of the game well: the time wasting, the provocation and the simulation."
"I also blame the referee because a red card and a penalty not given is a lot [to go against you]. But the responsibility lies with Khedira," Mourinho added. "He knew exactly what the situation was because we had talked about it – and he fell into their trap."
Spain hadn't seen a game this ugly since the Duquesa del Alba challenged Belén Esteban to a hand of strip poker; one first division player tweeted to ask which row the sniper was hiding in; and Levante had left the grass long and dry. The ugliest moment of the game came from Pepe (just for a change) and the coach didn't even address his own culpability in leaving Ronaldo and Ozil out – last season Madrid dropped points when Mourinho chose to rest key players – in playing Fabio Coentrão in three different positions, replacing Karim Benzema and Marcelo, or failing to break down a defensive side. As Roncero put it: "Madrid were a sad shadow that passed through the Ciutat de Valencia like a team with no soul, no tactical discipline, no ambition and no football: flat, predictable, and slow with no spirit, no pride and no arguments."
The red card may have changed the game. But as for the trap: what trap? Whether it is such a good idea to publicly single out a player to blame for defeat is questionable and Mourinho blamed the wrong man. While Khedira may have been foolish to have pushed Sergio Ballesteros to the floor as he stood over Angel Di María, the villain wasn't the German. Not for the first time the unacceptable face of football was being worn by Di María, who provoked the mêlée that led to the red card. He was fouled and when the referee didn't give it, he launched a revenge attack and then screamed at the linesman. When Iborra confronted him and touched Di María's face, the Argentinian went down as if smacked by a breezeblock nailed to a cricket bat. Ballesteros came to have a go at him and Khedira – whose first yellow was very harsh indeed – pushed him away.
Far from Khedira falling into a trap set by Levante, he had fallen into a trap set by his own player. As for Miss World, she had turned her back on all that useless beauty and fallen instead for the ugly bloke from the wrong side of the tracks. Madrid had everything but the girl and no one to blame but themselves. For all the complaints, it was hard to feel sorry for them. "We're just poor boys," Ballesteros said, "Madrid need no sympathy."
SOURCE:
http://www.guardian.co.uk/football/blog ... id-levante